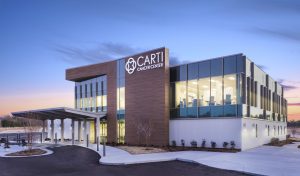 When it comes to finding – and fighting – cancer, you do have a choice.
The CARTI Cancer Center in Pine Bluff brings our industry-leading, comprehensive care directly to patients in the community. From expertise in medical and radiation oncology, screening and diagnostic mammography, urology and more to thoughtful extras like heated recliners for infusion, CARTI is committed to providing outstanding care for Pine Bluff cancer patients and their families. 
This is more than the best cancer treatment in Pine Bluff – it's the innovative team, treatment and technology our patients recognize and trust. Are you looking for leading-edge cancer care? Ask for CARTI.
WHAT CARTI IN PINE BLUFF OFFERS:
Comprehensive Cancer Care: Medical & Radiation Oncology, Urology, Onsite Lab & More
Imaging Services: Including CT, MRI, PET/CT & Ultrasound
Breast Health: 3D Mammography, Diagnostic Mammogram,  Breast Biopsy, Breast Ultrasound & Surgical Consultations 
Infusion Suite: 28 Heated Recliners, Private Infusion Suite, Chemotherapy & Immunotherapy
Cancer Experts: Trusted, Compassionate Team
Additional Support: Genetic Testing, Financial Assistance, Dietician Services, Front-Door Parking