Meet CARTI's first DAISY Award Honoree: Amanda Grace, RN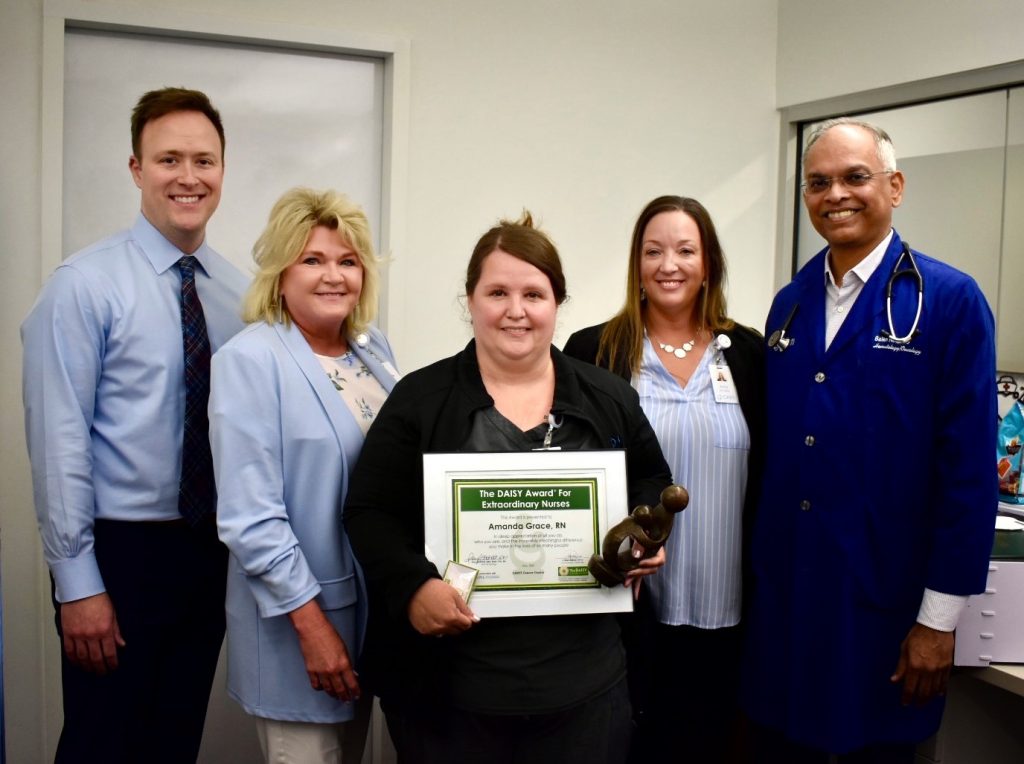 CARTI's extraordinary nurses go above and beyond to deliver the highest quality care to our patients. Each day their tasks range from the technical to the compassionate. They not only read charts but read the concern in a room, taking time to talk to patients and caregivers or provide a hand to hold in the hardest moments.

Founded in honor of the care received by J. Patrick Barnes, an Immune thrombocytopenia (ITP) patient, the DAISY (Diseases Attacking the Immune SYstem) Award honors and celebrates skillful and compassionate care nurses provide every day. CARTI is proud to recognize our very first DAISY Award recipient, Amanda Grace, RN.
Amanda travels the state from El Dorado to Heber Springs because she is passion about patient care. From years of experience, Amanda has developed superb technical skills but it is her selfless caring for patients in all walks that has garnered her praise from those who have been her colleagues and patients. Her coworkers praise her genuine empathy, citing the way she celebrates victories with patients, no matter how big or small. She stays after work to counsel patients, has raised funds to help them during treatment and her compassion goes above and beyond.
This compassion doesn't extend only to patients. Several coworkers who nominated Amanda noted her enthusiasm in helping and educating fellow nurses. She has mentored many nurses during her 12 years at CARTI, setting a shining example for her team and for health care professionals everywhere. Amanda puts into practice CARTI's values every day and has made an undeniable impact on countless patients. CARTI is honored to name Amanda Grace as a DAISY Award-winning nurse.

Amanda shares her story of what inspired her to become a nurse and the amazing journey she has had across her career:
When I was 10 years old, I went to a church service where two missionaries visited and gave testimony of their life and service to God and others. One of those missionaries was a nurse and her stories of healing and hope in Honduras enraptured my young heart and from that moment on I knew that nursing was my destiny and that one day somehow, I would serve in missions. I went forward that day and dedicated my life to God and his calling of me to serve in the field of nursing.
My senior year of high school, I was involved in a head on collision with a drunk driver. The nurse who took care of me was so amazing. The doctors and nurses sewed on my face and put me back together little by little from 10 p.m. until 7 a.m. the next morning. This further impressed on me a desire to serve in the medical field.
After graduating nursing school, I applied for a job and ended up with a position in Oncology. Once again, this was divine intervention in my life. Never in my wildest dreams did I imagine I could love what I do so much and then I came to CARTI. A lifelong dream of mine has been to serve in missions and through CARTI I have been able to fulfill this dream right here at home. I do not have to leave the boundaries of my state in order to serve others. I am brought to those who are in need the most every week. It's hard to imagine but there are people right here in Arkansas who are so sick that they can not travel for the lifesaving treatments that they need and I, along with our collective amazing team at CARTI, get to help bring that to them. The mission is right here at home.
One of my favorite quotes is, "A heart that loves is a heart that heals." I believe that through the love of others and through God's love that there is healing. Receiving the Daisy Award for compassionate care will be perhaps one the greatest pinnacles in my nursing career. I feel very humbled and honored to receive recognition for doing what I was called to do. I pray that I am able to continue to serve others with all of my heart and that God continues to use me as a vessel to show his love to all. "This is my commandment, that you love one another, as I have loved you," John 15:12.
Learn more about the renowned cancer specialists at CARTI and how this team works together to deliver the world's most advanced forms of cancer care in a compassionate, patient-centered environment.
RECOGNIZE AND THANK YOUR NURSE TODAY!
Founded in honor of the exceptional care J. Patrick Barnes received during his final moments, the DAISY Award is an international recognition program that honors and celebrates the skillful, compassionate care nurses provide every day. Continue this recognition by nominating a CARTI nurse who has made a difference in your life. Throughout the year, CARTI will choose four Daisy Award winners, so your nurse could be our next winner.
To learn more about the Daisy Award, visit DAISYFoundation.org.
To nominate your nurse, please fill out the nomination form below.