Stephanie Clark, RN, Earns DAISY Award for Compassionate Care in Nursing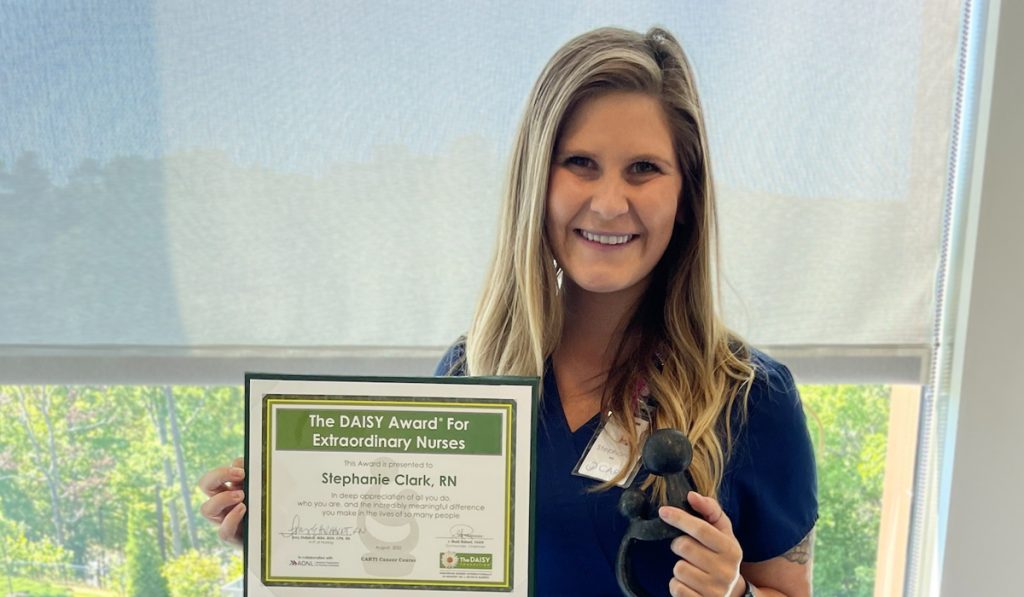 At CARTI, we are always thrilled when a patient or family member takes the time to praise one of our outstanding nurses for compassionate care. When the family member ALSO happens to be a nurse? That is high praise, indeed. Read on for details about Stephanie Clark, a registered nurse caring for patients at CARTI, who recently received the DAISY Award® based on a sister's heartwarming nomination.
An Excellent Nurse – and a Grateful Sister
Here are some excerpts from Stephanie's DAISY Award nomination:
"I am the sister of a young CARTI patient with breast cancer and, although I am a nurse myself, underneath I was just as terrified as my sister when we first arrived at CARTI for her first chemo.
I know Stephanie gives each and every one of her patients the one-on-one treatment we received, but this nurse is special. She was patient, kind and gentle. She answered all 62 questions we had, from help with future nausea to the best local restaurants to try while we were here. She kept us updated, she gave us realistic expectations, she calmed our fears and she gave us hope.
"To us, she was everything in starting this journey to healing and recovery. We can't thank her enough for what she has meant to us during our time here at CARTI. God bless this nurse and God bless CARTI."
Clearly, Stephanie made a genuine connection with this patient and her sister at a time when they needed it most! What they DIDN'T know is that Stephanie has seen positive patient care up close all her life – and those early examples changed everything.
The Childhood Dream That Became a Calling
Stephanie always wanted to be a nurse. When she was a little girl, Stephanie watched her grandmother, a CNA, work hard taking care of patients, and her love for the work inspired Stephanie.
"I can remember going to my grandma's house and making her be the patient and I would 'take care of her,'" she said. "I would dress up in my little scrub set and play nurse for hours on end."