Choose The Best In Breast Cancer Screening with Dr. Smith-Foley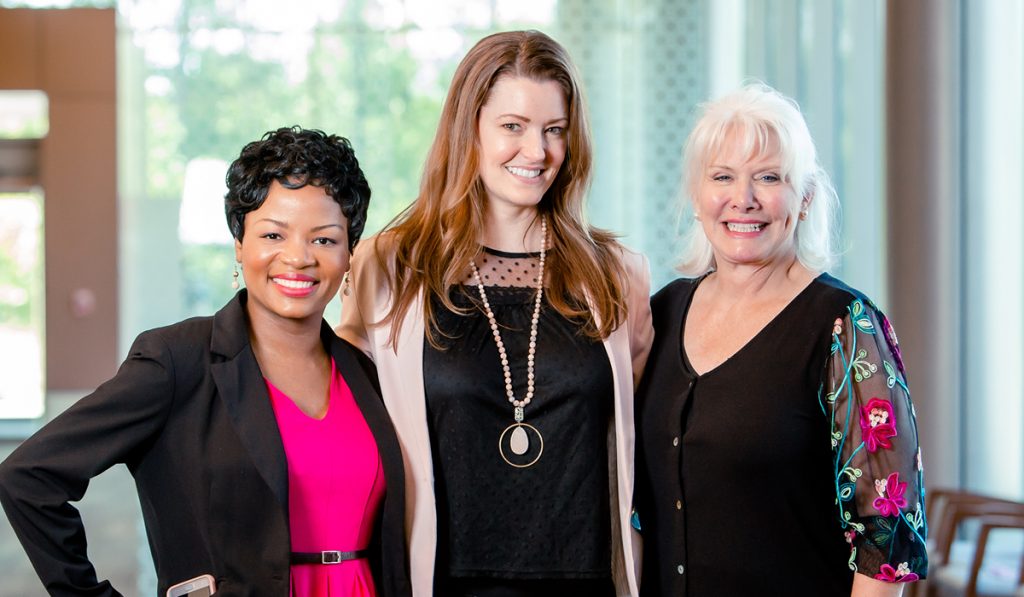 By Dr. Stacy Smith-Foley, M.D.
Most people are aware that October is designated as Breast Cancer Awareness Month. We see this reflected in news stories, community fundraising events and even athletes from the NBA to the NFL wearing pink gear.
Being a dedicated breast imager, my professional focus on breast cancer is year round. But every October I welcome the added seasonal publicity for my specialty, the ultimate goal of which is to detect breast cancer early, when it is small and most easily treated. When detected early, patients may be able to undergo less extensive treatment and experience survival rates greater than 95%.
However, with all of this "awareness," many myths abound regarding breast cancer screening. In honor of Breast Cancer Awareness Month, I'd like to combat those common misconceptions and explain the typical patient experience at The Breast Center, in hopes of relieving worries some women may have about getting a mammogram screening.
COMMON MISCONCEPTIONS OF BREAST CANCER SCREENING
MYTH: There is no clear answer as to when women should start having mammogram screenings.

TRUTH: At The Breast Center at CARTI, we follow national guidelines and recommend average risk women begin yearly screening mammography at age 40.

MYTH: Family history is the most important risk factor.

TRUTH: 75% of women diagnosed with breast cancer have no family history.

If a woman does have family history, she may be at a higher risk of developing breast cancer and may need to begin screening earlier. CARTI offers risk assessment and personalized surveillance through the Cancer Genetics Risk Management Clinic.

The two greatest risk factors for developing breast cancer are simply being a female and age. As a woman grows older, her risk for breast cancer continues to increase. There is no age limit for breast cancer or for the need for regular mammography screenings. As long as a woman is otherwise relatively healthy, she should continue yearly screening.

MYTH: Insurance only covers a mammogram every other year.

TRUTH: Insurance coverage for breast cancer screening is protected by federal legislation. In fact, Medicare, like most insurance plans, pays for a mammogram each year. Although every plan is different, most health insurance companies cover screening mammography at 100% as part of a wellness program. We recommend checking with your insurance carrier for specifics related to your plan.
THE BREAST CENTER AT CARTI EXPERIENCE
At both of our locations – the CARTI Cancer Centers in Little Rock and North Little Rock – the patient experience has been deliberately designed to eliminate the barriers that prevent women from undergoing lifesaving breast cancer screenings.
EASE OF SWITCHING
Our scheduling team connects with each patient to ensure his/her concern will be addressed and to schedule the appropriate exam. Patients can self-refer for screening mammography; however, it is best to have a relationship with a personal healthcare provider. Patients who have a problem or symptom require a referral from a licensed clinician.
Switching from another facility is easy. Our team works diligently to obtain relevant outside records.
CONVENIENT ACCESS
Designated front door parking is provided at our CARTI Cancer Center in Little Rock.
For patients being seen at the CARTI Cancer Center in North Little Rock, The Breast Center check-in is located directly inside the main entrance to the facility.
SPA-LIKE ENVIRONMENT
Patients are greeted by caring professionals and discretely enter their personal health information on sanitized iPads. A technologist brings each patient back to a private dressing room where they are provided with a soft waffle weave robe. They can secure their valuables in the private dressing room before being escorted into the imaging suite.
ADVANCED SERVICES AVAILABLE ON-SITE
While filling out their personalized check-in information, each patient will complete a breast cancer risk assessment. If the patient meets certain guidelines based on their personal and family history, genetic testing is offered and a sample can be collected the same day. Within 2-4 weeks, the patient will be contacted by a member of our Cancer Genetics Risk Management Clinic to go over their genetic test results.
A MORE COMFORTABLE MAMMOGRAM
Mammopads are used to reduce discomfort with compression as there is no such thing as a "compression-less" mammogram. These are provided at no additional cost to patients thanks in part from a donation by the CARTI Auxiliary.
We also use the SmartCurve paddle which is curved like the breast and distributes the pressure evenly thus providing greater comfort.
LEADING-EDGE 3D MAMMOGRAPHY TECHNOLOGY
Occasionally, additional views are needed to ensure the breast tissue is visualized completely. We use new technology called digital breast tomosynthesis, also known as 3D mammography, to take multiple high resolution thin section images of each breast from different angles and generate a composite image from the slices. This reduces radiation exposure by 40% compared to techniques that use a combination of 2D and 3D imaging. This advanced technology allows us to detect 30% more cancers and also reduces the number false positives by 30% compared with 2D mammography alone.
DEDICATED BREAST IMAGING SPECIALISTS
Our team includes two fellowship-trained breast radiologists who review and interpret each breast imaging study. We use the most cutting edge AI software, which highlights suspicious features such as architectural distortion and micro calcifications. Computer aided detection software is also used to tag suspicious findings for the radiologist. Prior exams are used, when available, for comparison to reduce callbacks for stable benign findings and to detect subtle changes. We see both asymptomatic screening as well as diagnostic patients.
QUICK RESULTS
Diagnostic patients receive same day results, which are delivered personally by the radiologist.
Screening patients receive their results by phone, email or mail based on personal preference. If something is identified on a screening mammography that requires additional imaging, our certified nurse navigator contacts the patient to facilitate scheduling for further evaluation.
A TEAM APPROACH
Our team of specialists includes a nurse navigator, genetic counselors, breast radiologists, fellowship-trained breast surgeons, and medical as well as radiation oncologists. We work together to facilitate individualized patient care plans in our bi-monthly multidisciplinary breast case conference.
At The Breast Center at CARTI, we provide comprehensive breast imaging services including screening and diagnostic mammography, breast ultrasound, image-guided needle biopsy and breast MRI. With these advanced technologies, plus all of the patient-centered features above, The Breast Center provides each patient with unparalleled breast health care.
As a breast radiologist with more than 15 years of experience, I have repeatedly witnessed the positive impact of early detection through breast cancer screening. My hope this October is that every woman will prioritize her breast health and make a mammogram appointment today.
For more information about The Breast Center at CARTI, click here. To book your mammogram, call 501.537.MAMO.