Alisha Guest's Story | "I'm Not Going Anywhere!"
As printed in the 2019 Cattle Baron's Ball program, presented by the American Cancer Society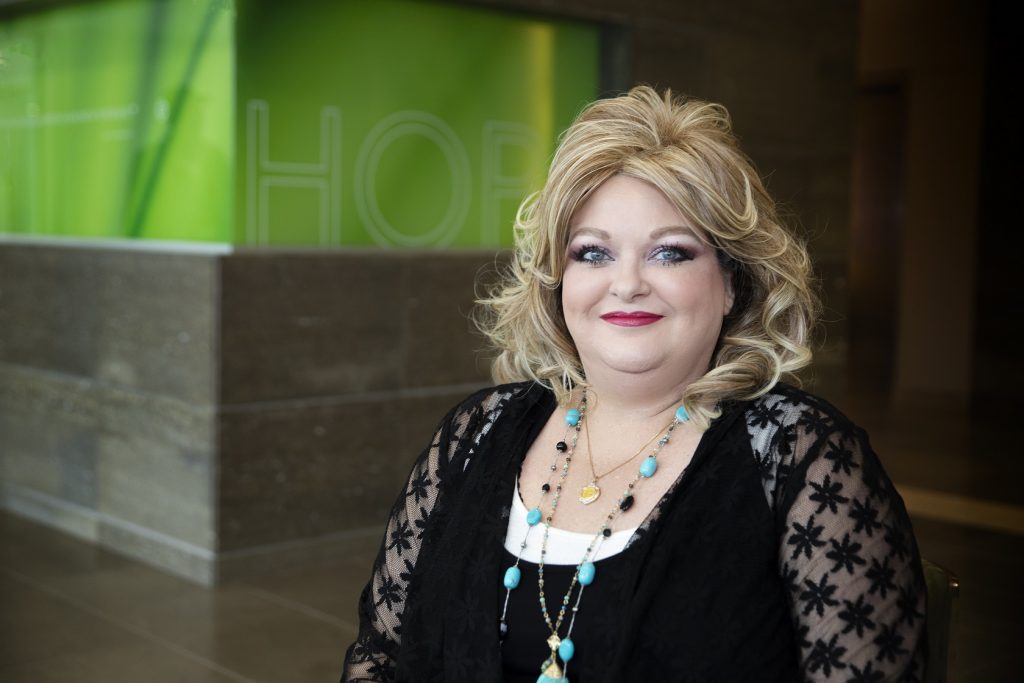 Alisha Guest is the 2019 Cattle Baron's Ball Distinguished Survivor Award recipient.
Alisha and her husband David live in Saline County. 16 months ago, Alisha received a cancer diagnosis after two years of seeking answers to distinct symptoms. We sat with her during a routine morning at CARTI to discuss life before and after the diagnosis, and how staying positive helps her beat the odds.
Everyone is running a bit behind on the morning of the Distinguished Survivor photoshoot. It's shortly after 8 a.m. and clouds are rolling in with the potential for rain. Eyes are still heavy, and our coffee hasn't quite kicked in. The photographer is scoping the area for good backgrounds and warmer light than the weather is providing us. Dr. Raja arrives, and shortly after our honoree finds us.
Alisha Guest wastes no time cracking her first of many light-hearted jokes. "Hi, my name is Alisha," she says shaking everyone's hands, "and this is my husband David. I can't seem to get rid of him." Her laugh is contagious, uplifting, encouraging and to an extent, spiritual. Everyone shakes hands and comments on how great she looks in her photoshoot outfit. Dr. Raja immediately goes in to hug Guest and you can tell there has been a long building patient-doctor relationship there. Throughout the photoshoot they crack jokes, laugh and genuinely enjoy each other's company.
Guest is at CARTI early this morning for the photoshoot, but she also has lab and fluids scheduled once the pictures are taken. We talk briefly and it's decided that I would accompany her husband and her on today's journey. The thing about being a cancer patient that most people don't fully grasp until they are personally impacted by it, is how long the battle may become. The waiting room for lab work is a well-oiled machine and staff here are quick to know their patient's names and what they need. These patients have all been here before. Their caregivers have been here before. The routine is the same and for many in this room the battle will rage on for many more months, maybe years.
We sit down and start to chat. She is unfazed by the others around her, knowing that everyone has their own journey and story to tell. The first question I ask is simple: "What was your life like before your diagnosis?" She hesitates, and through her radiant smile says, "Normal."
Many would say her life before the diagnosis was far from normal. This was a woman who lost her dad when she was 25 years old. "I miss him. I still think about him all the time. Matter-of-fact, I had a dream about him last night. I sometimes wonder if he knows that I have cancer." She also lived in China for a while for work and says she would have gone back had she not met her husband. Jon David (he goes by both, or either/or), a Navy veteran, is her second husband after her first one passed away. She had been married to David a little over four years when she received her diagnosis.
They met through Facebook Messenger. They knew of each other prior to this, having both graduated from Bryant High School, but never got to know each other until David, by self-admission, made a "whiny" post about breaking up with his then girlfriend. Alisha laughs at this story and cracks another joke. "I told him basically to get over it, that I had just lost my husband."
Our journey through CARTI has taken us to the 4th floor where patients receive infusion treatments. If you've been on this floor you know this area is set up to be as comfortable as possible given the circumstances you might find yourself here. Guest walks through the door and is immediately greeted with a big hug from a nurse and more laughs and well wishes are shared. Everyone here knows everyone here. David makes mention that he has not missed one single treatment during the entire journey. "26 and I've not missed one," he tells me.
This is not lost on his wife. She emails at nearly 11 p.m. the night of this interview to let me know that she had one regret from our talk: "Not telling you how very much I appreciate my husband. I could not, and I do not, want to walk this path without him. He is my constant support, my chef, my housekeeper, my lawn boy, my nurse, my counselor, my shoulder to cry on, my best friend and the most wonderful husband anyone could ask for." She wanted to make sure everyone knew this, but if you saw them together there would be little doubt of the love she has for her husband.
Earlier, David and I had a few minutes alone to chat. He mentions that as a husband you just "have to do what you have to do." He puts a lot of emphasis on flexibility, too. "You have to be flexible. So much is going to be asked of you. You must know when to let other people 'grieve' for your wife, too. You really have to be a friend before you're anything else." When they finally got a legitimate diagnosis, it would turn out that his wife had metastatic endocervical adenocarcinoma. They both know, and David acknowledges, that the survival rate for this type of cancer is catastrophically low, and it is mostly considered incurable. David has spent many hours thinking about this. "Living alone? It scares the sh*t out of me. It's a constant anxiety. It's always there."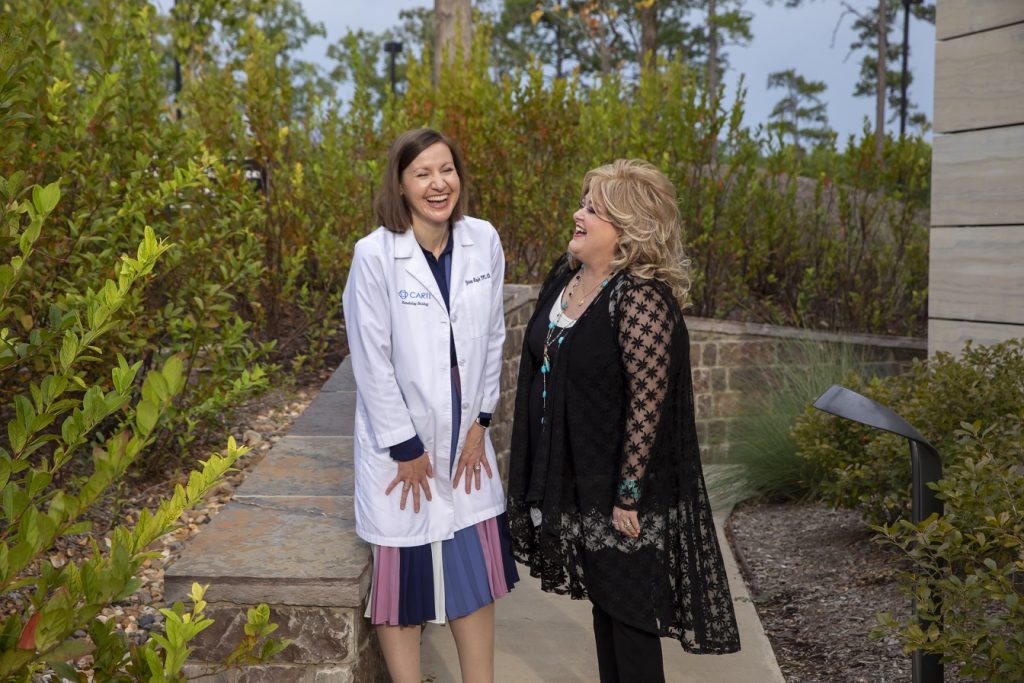 Back in the infusion area, Alisha is more than willing to talk about how she got to this point. For starters, she had some strange symptoms: soreness, bleeding and constant tiredness. "Honestly, I thought it was menopause, old age or having a few extra pounds. I went from being so energetic to having to take a nap at lunch to get through the day." She fumes as she mentions the first doctor who told her nothing was wrong and refused to order the $80 test that could have caught the cancer earlier. "He kept saying nothing was wrong, but clearly something was wrong. Obviously, something was not right."
For nearly two years she experienced these symptoms until she finally ended up with her diagnosis. The doctor who broke the news said there was nothing they could do. She ended up at CARTI, a place she likens to home, where she was told that they would do everything they could to help her. This was welcomed news for her and David. "CARTI has been wonderful to us. We've been getting treatments here for 16 months, and Dr. Raja didn't hesitate to try to help."
She looks around the treatment area and gestures with her hand. "It's amazing that right now my life is nothing but cancer. CARTI is my life. I meet the other people here and we've made friends. We go out to eat with other patients and their families. The nurses hug you and know who you are." She takes a moment to reflect and in a poignant moment speaks of those who finish their treatments. "I get to see so many people ring the bell, and I am still here."
"I feel good here, though" she says. "Maybe not my body, but I feel good being here." She comments that while she may not always feel the best, she is very fortunate to have not had all the symptoms of treatment others experience. She shares with me that up until recently she had not even taken a day off work. "I would work around my treatments. It would be early in the morning or later in the evenings, but I didn't have to stop doing work because of the treatments."
This conversation is happening while nurses take her blood pressure and begin administering her fluids. She wants to make it clear that if her story can help one person then it's worth sharing it. She admits that she had not scheduled the recommended exams she should have. "I take a lot of responsibility for where I am." Despite this, she is now very much an advocate for prevention, and she mentions that one of Dr. Raja's first questions to her as a patient was "Who's your gynecologist?"
Guest acknowledges that her diagnosis is HPV linked. We are talking about vaccinations and prevention and she chimes in, "I don't know why any parent wouldn't let their kids get the vaccination if it helps them." David agrees, "It just makes sense. Why wouldn't you?"
The conversation eventually turns to "what's next?" Alisha smiles and says that she's already beat some of the odds. "I've been living with stage 4 cervical cancer for a while now. The tumor has shrunk and even the nodes are shrinking. I understand that we are all on borrowed time, but I'm not going anywhere." The smile on her face as she proclaims victory over negativity is telling. She's adamant to stay positive and share that positivity with anyone she encounters. She would also tell people facing a cancer diagnosis to "Stay off the internet!" She says, "You'll read all these negative things on there, but it's really about the individual and how you approach what you are facing."
As we begin to wrap up the interview, I ask her how she feels about being chosen as The American Cancer Society's 2019 Cattle Baron's Distinguished Survivor. She immediately tears up. "When I got the call, I started crying. We both started crying. It was kind of like, of all these people, they chose me. It means a lot." She kind of laughs, leans forward wiping the tears away, "I don't know why I am crying. Wait! Yes, I do, I am a 'ball-bag'." We all laugh, and she smiles a big smile, "I cry easy, and I laugh easy."