A Sweet Treat for Valentine's Day: Chef Coby's Chocolate Fudge Pie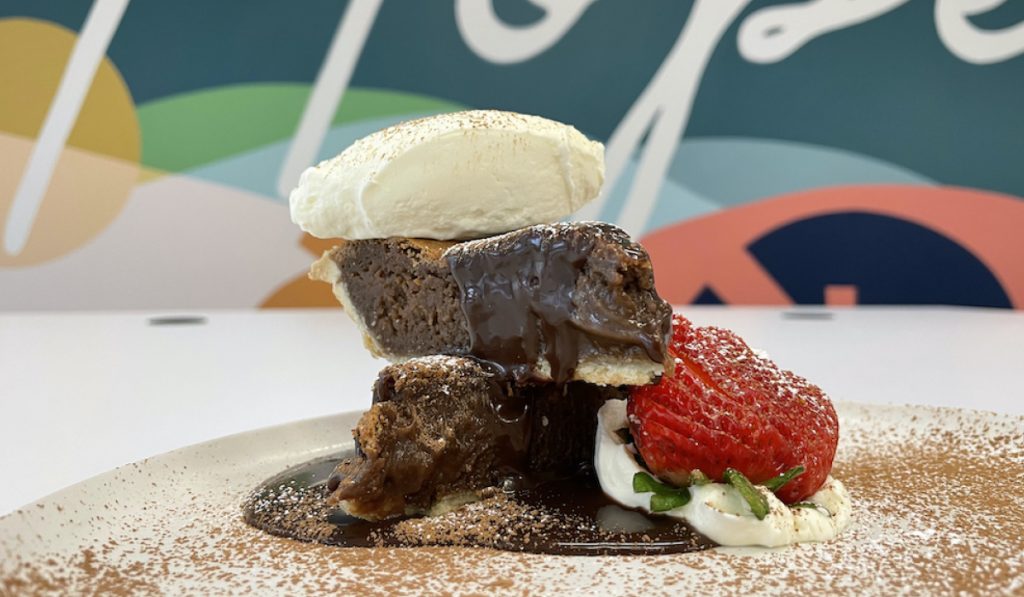 The ultimate way to make your Valentine feel special? Chocolate. Lots of it. Chef Coby Smith from CARTI's Hope Bistro brings people together with food every day, and he's shared his recipe for a delicious chocolate fudge pie in Little Rock Soiree.
Southern Pie Crust
Yields two crusts.
Ingredients:
2 1/2 cups all-purpose flour
1/2 cup butter, cut into pieces
1/2 cup cold lard, cut into pieces
1/2 tsp. salt
6 tbsp. ice water
Directions:
Preheat the oven to 425 degrees.
Combine the flour, butter, lard and salt in a bowl until the mixture resembles small peas.
Sprinkle with ice water, one tablespoon at a time, and stir with a fork until the dry ingredients are moistened.
Shape the mixture into two balls, then cover and chill for 30 minutes.
Roll the balls of pie dough into 13-inch circles on a lightly floured surface.
Fit the dough into 9-inch pie plates, folding and crimping the edges, then fill the shells with pie weights or dry beans before baking for 15 minutes.
Remove the weights and bake for an additional 5-10 minutes or until the crusts are golden brown.
Cool both completely on a wire rack.
Chocolate Fudge Pie
Yields filling for two pies.
Ingredients:
1 1/2 cups butter
1 1/2 cups chocolate morsels or chips
1 1/2 cups firmly packed brown sugar
1 1/3 cups granulated sugar
6 large eggs, lightly beaten
4 tbsp. all-purpose flour
6 tbsp. heavy cream
1 tbsp. vanilla extract
Directions:
Preheat the oven to 350 degrees.
In a double boiler, melt butter and chocolate chips until smooth.
Stir in sugars and then the eggs, ensuring the mixture isn't too hot to cook them.
Follow up by stirring in the flour, heavy cream and vanilla extract.
Pour the mixture into the crusts, either store-bought or as prepared above, and bake for approximately 45 minutes or until puffed up. (Chef's note: The filling will deflate as it cools.)
Remove the pies from the oven and allow them to cool completely before slicing and topping with some whipped cream.
What makes Chef Coby's recipes exceptional is the way they're nourishing and protect our health without compromising decadent flavors that satisfy our cravings. At CARTI's Hope Bistro, Chef Coby and the culinary team offer high-quality foods at an affordable price point so patients, their families and CARTI visitors can enjoy fresh, healthy meals.
Check out the full article in Little Rock Soiree and try the recipe for yourself here.