'What Does A Medical Physicist Do?' With CARTI's Scott Yakoubian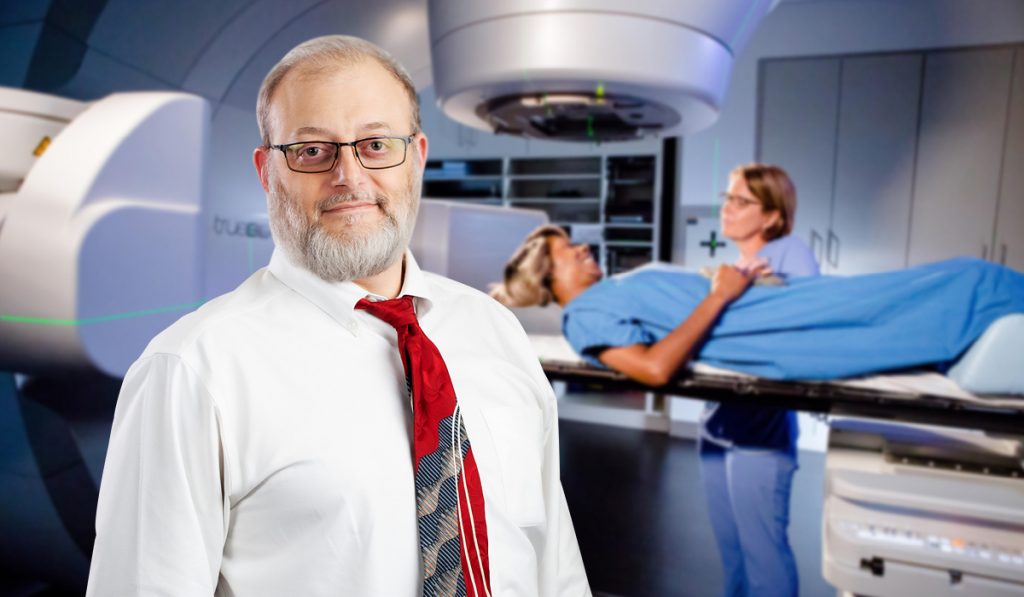 Authored by Scott Yakoubian, Director of Medical Physics & Dosimetry, RSO
What does a medical physicist do?
When used for any purpose, it is essential that radiation be used safely and effectively. That sentiment is only exasperated when radiation is used for medical purposes, whether diagnostic or therapeutic, to ensure it's delivered with pinpoint accuracy to unhealthy cells and does not harm surrounding healthy cells and tissues. In these instances, those who manage the safety and technical side of radiation use in medicine are known as medical physicists.
Specifically, medical physicists prepare treatment machines and CTs for clinical use by measuring and modeling how the radiation interacts with tissues in the body. This forms the basis for our treatment planning system where we simulate and pre-plan customized patient treatments. These treatment machines produce extremely high radiation doses, so we must monitor their performance closely to make certain we are able to deliver the dose our radiation oncologists prescribe safely. Should adjustments need to be made to the treatment machine's radiation output in order to maintain the accuracy within tight tolerances, it is the medical physicist who does this.
Our role in the patient's treatment plan includes:
Designing patient treatment plans for high-precision treatments such as intracranial stereotactic treatments where we deliver a single, large dose to lesions in the brain.
Using and handling radioactive material that is also used in the treatment of cancer.
Monitoring each of our patient's treatments throughout the course of treatment and consulting with our physicians when medical physics input is helpful for complex cases.
In some of the more complex treatments, we attend and help deliver the treatment itself.
After normal clinical hours, Physicists deliver patient treatment plans to special measuring devices that are able to measure and validate a patient's treatment plan before the patient actually receives their treatment thus ensuring accuracy in our calculations.
What does it take to become a medical physicist?
There are two aspects to this.
First, in order to become a medical physicist, you must have an advanced degree in Physics. This involves a bachelor's degree, usually in pure physics, then specialization into a master's degree or Ph.D. in Medical Physics. This is followed by a two-year residency in an accredited residency program. Then, ultimately board certification; usually by the American Board of Radiology; the same accrediting body that certifies radiation oncologists and radiologists. Board certification is something that is maintained on an ongoing basis and proves a base-level competency in specific fields, such as therapeutic radiation physics. This helps assure each patient receives the best possible level of care.
But equally important, I would go a bit further and say an individual must possess an internal and personal drive to want to help individuals. Delivery of radiation to human beings is not something to be taken lightly and people involved in this must have a deep commitment to those who they have dedicated their lives to help.
On average, how long do you work on one patient's radiation therapy plan?
This varies considerably based on the individual patient – a treatment plan can take anywhere from 2-4 hours to multiple days. Once the plan is complete, the plan must be prepared and measured to confirm its accuracy. So it's a long, methodical process.
We realize there's a lot of anxiety that goes along with a cancer diagnosis. Then to add even more anxiety, our patients are told that they must now have radiation, something they've been told to avoid all their lives. We try our very best to make the treatment preparation process move as fast as possible, but still maintain a high degree of safety so the patients can start treatment as soon as possible.It's not uncommon for the medical physics team to work evening and weekends to help move the process along as fast as possible.
What is something a patient would not know about medical physicists?
Physicists are stereotypically known to be "academics" or researchers confined to labs or classrooms, so most patients don't even know we exist because many of the things we do are behind the scenes. Studies have shown that a patient's anxiety level can actually improve by letting them know that there's an entire group of scientists working diligently behind the scenes to ensure their treatment is as perfect as possible.
What does it mean to you to be a part of so many patients' cancer journeys?
After 53 years of life and 27 years in the field of medical physics, I have come to believe the purpose of life is to help each other. I'm fortunate to have found an area of intellectual interest in physics; for some reason I've always gravitated towards it (pun intended). To be able to use this interest to help others is one of the main things that gives meaning to my life. Medical physics is how I was intended to answer the call "when I was sick, you took care of me."
For more information on the many ways that CARTI treats cancer, see a full list of cancer treatment services available for our patients.