HOW ADVANCED LUNG IMAGING CAN HELP PATIENTS SEE – AND CHANGE – THE FUTURE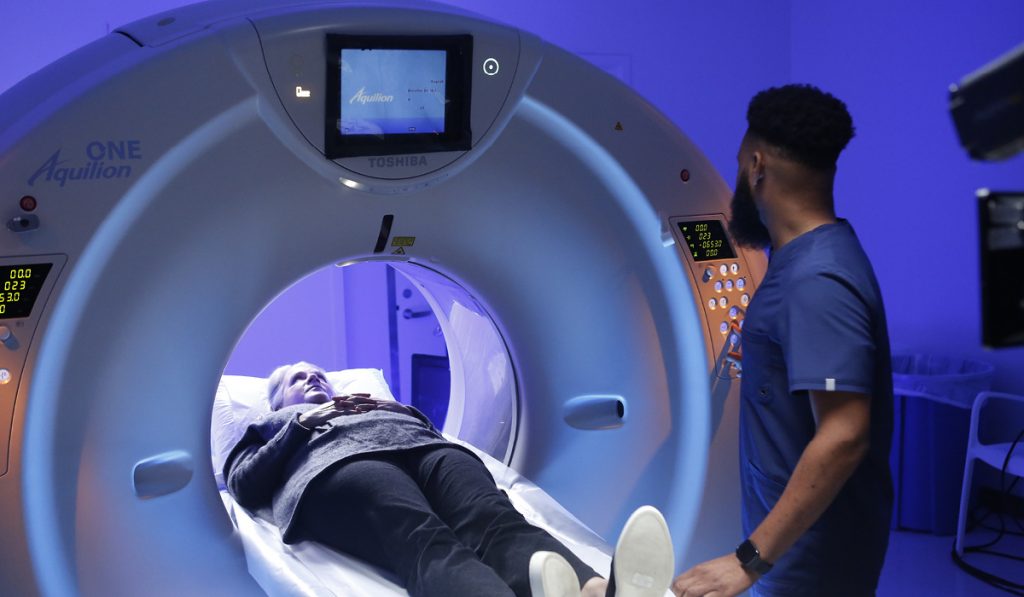 Cancer affects one in three individuals, which means that all of us should be aware of family history, lifestyle contributors and, of course, signs and symptoms. But advancements in diagnostic radiology can reveal what other tests can't – subtle changes that indicate cancer in its earliest stages. And that's just the beginning.
Key Screenings
As a leading-edge provider of cancer care in Arkansas and the region, CARTI is home to the most advanced imaging technology, including PET CT, CT, MRI, ultrasound, interventional radiology and much more. One of the most impactful ways we use this technology to benefit Arkansans is through screenings, particularly for lung and breast cancers.
Low-dose screening lung CT has proven incredibly valuable in detecting cancer long before it could be easily seen on chest X-ray, meaning a patient's medical team can intervene sooner and have a higher chance of a positive outcome. Unfortunately, this screening is especially critical for Arkansans. Our state is consistently ranked among the highest smoking rates in the country at around 20%, and that percentage has climbed even higher among high school students.
Targeted Treatment
Beyond screenings, emerging technology is taking radiology beyond information to targeted treatment. CARTI was the first facility in Arkansas to use a radiotracer – which tags the tumor itself to deliver targeted radiation therapy – for prostate cancer treatment. CARTI currently has two such tagging agents, one for carcinoid tumor (a type of neuroendocrine tumor) and one for prostate cancer, with plans to expand as the technology continues to develop.
In a discipline that relies on state-of-the-art technology in a high-stakes, often time-sensitive environment where important decisions are happening quickly, this shift from delivering answers to delivering treatment is an incredible leap forward. Clearly, providing clinical information is our primary goal in radiology. But if we can also treat the actual disease? That is the kind of advancement that can bring about radical change.
Next Steps
Together we can change the destiny of many Arkansans – perhaps you or a loved one – from victim of cancer to victor over cancer. Learn more, and ask your physician to refer you to CARTI for imaging services.