The Hope Bistro at CARTI Chosen as FoodService Operation of the Month by FoodService Director Magazine
As seen in FoodService Director Magazine
New Bistro Serves up Hope and Cancer-Fighting Fare
CARTI Cancer Center Looks to Food as Medicine to Foster Healing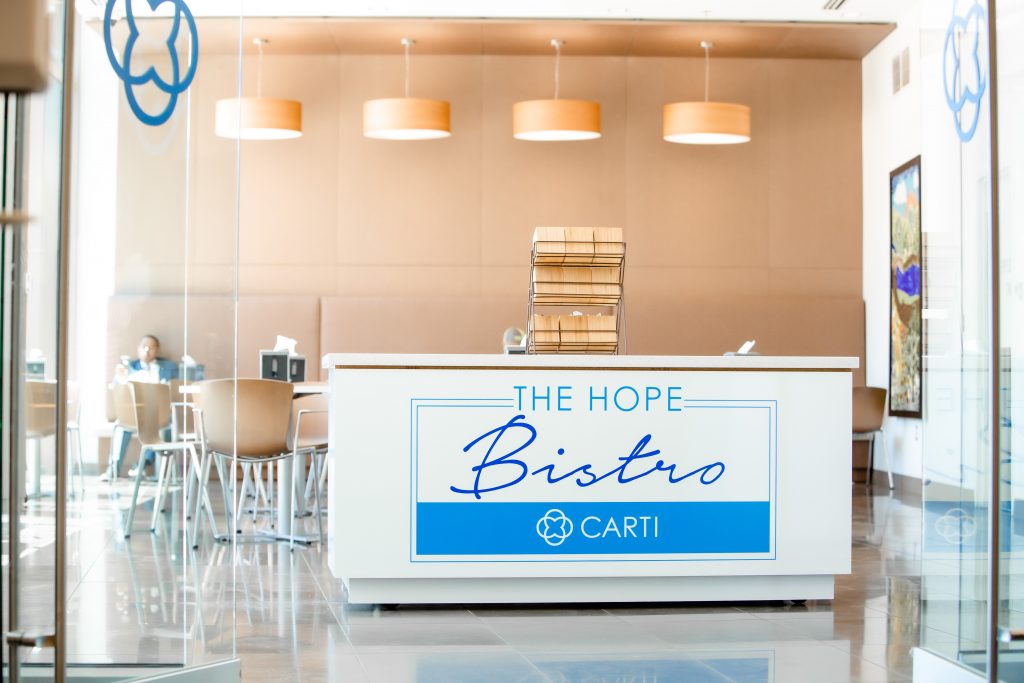 At CARTI Cancer Center in Little Rock, Ark., patients and family members come from all over the state in search of treatment and expertise—and hope. Their perseverance inspired CARTI's new restaurant, The Hope Bistro, which serves cancer-fighting dishes alongside comfort food at an exceptionally low price. The Hope Bistro opened July 15 under the leadership of Executive Chef Coby Smith, who joined the team just a few days earlier to bring to life CARTI President and CEO Adam Head's vision for a place where patients and their families can get a great meal for $5 or less, and have a moment to themselves as they eat.
Hot entrees, such as seared scallops with pickled jalapeno, microcilantro and corn puree, are $5; entree salads, such as the Antioxidant Salad with chicken, spinach, almonds, local blueberries and strawberries, cost $4.50; and sandwiches and other items are $4 or less.
"So many of our dishes are bursting with color— broccoli, Brussels sprouts, blueberries, strawberries, squash—because brightcolored produce fights cancer," Smith says. "We went into this brainstorming about how to put that concept first at The Hope Bistro."
That mission was central not only to menu planning but also launching the operation overall, Head says: "You don't have to go super complex on the dishes themselves, necessarily— maybe it's a salmon salad with blueberries—but there's an intentionality that has to go into that planning."
MAKING A CHANGE
The previous operation at this location had been a delitype restaurant that Head says was "fine" but didn't reflect CARTI as a whole.
"We contracted out [the foodservice] before, because we figured, let someone else do that while we focus on the treatments," he says. "But we realized food can be a part of the treatment process. We didn't want a disconnect between the food we were serving and the kind of diets we were talking to people about."
Plus, not everyone had the desire or the means to spend $12 on a sandwich and a drink, Smith says.
"We're a nonprofit, so that gives us a lot of options to get quality ingredients while keeping [menu] prices low," says Smith, who added that food costs for the concept, where offerings change daily, are about 60% right now. "The response has been remarkable. We've had people coming in from the street just to try our food."
The Hope Bistro netted sales of $30,000 in August, its first full month of operation. The deli had been averaging about one-third of that in a good month, Smith says. Head says he's "thrilled" with how things have gone so far, and he credits not only the hard work of Smith and his team of four but also their ability to off er something for everyone.
"There is no 'cancer patient diet,'" Head says. "In speaking with our clinicians, they pointed out [that] some people need the calories of a hearty potato soup made with cream, and sometimes they just need the comfort. So we didn't go in with the intention of, 'Here's your healthy buffet of different types of lettuce.'"
That's why the bistro also offers meatloaf, mashed potatoes and chicken-fried steaks.
"We've added flax seed to the meatloaf, roasted cauliflower to the potatoes and used oatmeal or even ground-up quinoa as our breading mechanism for the steak," Smith says. "We like to come up with a plan to make [guests] happy while still being true to our mission."
STEP BY STEP
When opening the bistro, focusing on one daypart at a time was key.
"Our first day of business was July 15, my first day was July 9, and up until July 11 there was another restaurant in this space," Smith says. "We had to go full-tilt boogie around here, and at the time I had only one person helping me. So we did what we could the first couple of weeks."
That meant starting with a grab-and-go lunch items, prepped from 6 to 11 a.m. A few weeks after that, Smith and the team added a hot lunch and, shortly afterward, breakfast services.
"We knew what we could handle, so we took baby steps," Smith says.
That piecemeal approach is a simple way to execute on larger undertakings that may feel overwhelming to operators at first, Head says.
"It's easy to avoid a big change, because they're hard," he says. "We ourselves could easily have kept doing what we were doing with the deli. But if you're willing to take that bold step, that leads you to transformative changes that can make a huge difference. You can't get there if you're not willing to really go for it."