Mary Claire's Story | 13-Year-Old Presents $1,000 to CARTI in Honor of Mother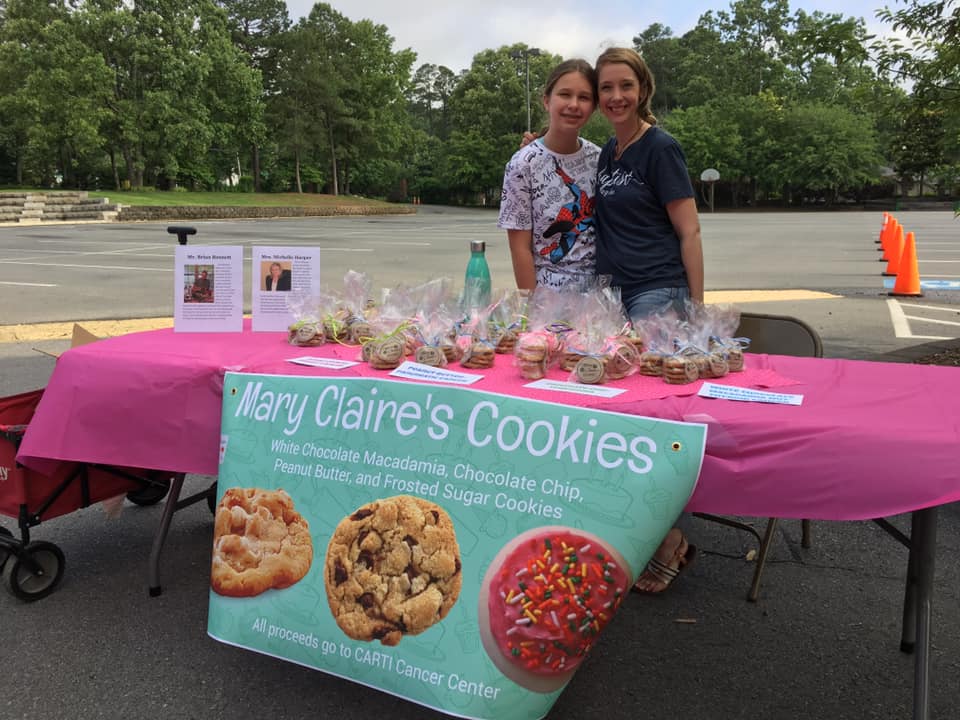 Diagnosed with thyroid cancer in 2018, Michelle Smith Harper became a patient of Dr. Scott Stern,  head and neck surgical oncologist at CARTI. Dr. Stern performed surgery on Michelle, then oversaw her subsequent treatment with alcohol ablation therapy.
With this being Michelle's second thyroid cancer diagnosis, her family was worried by the unknown and looking for ways to honor and celebrate their mother's life. That's where her daughter, Mary Claire, came in.
At just 12 years old, Mary Claire, a sixth grade student at Baptist Prep School, chose to make her school service project a bake sale, with the proceeds benefiting CARTI. She chose baking because it's one of her passions – even saying she hopes to open a bakery when she's older. `
To fund her project, Mary Claire created a website with a list of all the ingredients she would need. Within 25 minutes, the parents of her classmates completely funded the project.
Once she had the necessary funding, she and her friends baked for three days straight. They created multiple cookie options, which she named in honor of certain cancers: frosted sugar for breast; chocolate chip cookies for lymphoma; white chocolate macadamia nut for thyroid; and peanut butter for pancreatic.
They decided to sell the first batch of cookies at a school-sponsored event. Parents and students flocked to buy them and they completely sold out – quickly! In just a short amount of time, Mary Claire had raised $500 towards her cause.
They went on to bake a second batch, this time choosing to sell them at the Little Rock Farmers' Market. The sign designating the cookies were made in honor of her mother read:
"This is Michelle Harper, my mother. My mother is a sweet lady who loves the Lord with all of her heart. She works for the Lord day by day at the Union Rescue Mission, specifically the Dorcas House. My mom is kind, and tenderhearted. She was diagnosed with thyroid cancer. She has been diagnosed already once in her life, so it returning was a little scary for all of us. My mom has recently now found out that there is another growth of cancer in her lymph nodes, and will get it removed soon. Please keep her in your prayers. I love you, momma."
Within one morning of sales, they again sold out, making an additional $500 for a total of $1,000 towards her cause.
Of the experience, Mary Claire said, "while I was selling the cookies, I would talk to the people about the cause that I was doing this for. One woman I met had thyroid cancer, another had breast cancer. I love the feeling of connecting with those people and making those memories."