CARTI Physician Awarded Fellowship in Radiation Oncology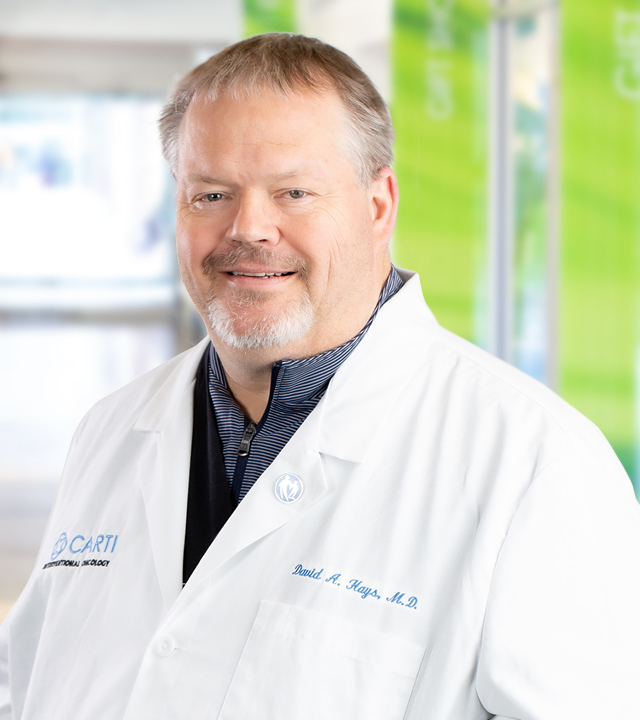 Dr. David Hays of CARTI has been named an American College of Radiology (ACR) Fellow. He is the medical director of imaging and interventional oncology, who practices interventional radiology and serves as a diagnostic radiologist. He will be recognized in a ceremony in Washington, D.C., May 19.
ACR Fellowship is awarded to members of the College in good standing who have demonstrated service to ACR; evidenced significant accomplishments in scientific or clinical research in the field of radiology; made significant contributions to literature; and/or provided outstanding work as a teacher of radiology. Only 10 percent of College members have been awarded this honor.
Fellowship is awarded to diagnostic radiologists, radiation oncologists, interventional radiologists, medical physicists, and nuclear medicine physicians at the convocation held during the ACR annual meeting. Radiation oncology (radiation therapy) is the careful use of high-energy radiation to treat cancer. A radiation oncologist may use radiation to cure cancer or to relieve a cancer patient's pain.
"CARTI is proud to add another ACR Fellow designation to our ranks," said Jeremy Land, Sr. Vice President of Radiation Oncology and Imaging at CARTI. "Dr. Hays adds so much to our program, and we are proud to have his level of expertise to offer our patients."
Said Dr. Christopher Pope, also an ACR Fellow at CARTI, "This is a richly deserved honor for Dr. Hays. He is an exemplary interventional radiologist, and we are fortunate to have him as a member of our CARTI team."
Dr. Hays, who has been an ACR member since 1999, is also a member of the Society of Interventional Radiology, Arkansas Radiological Society, Pulaski County Medical Society, and Mid-America Interventional Radiological Society. He and his wife, Cindy, have five children.
In addition, CARTI has been awarded a three-year term of accreditation in radiation oncology as the result of a recent survey by the ACR. This accreditation covers all of CARTI's radiation oncology sites, which include CARTI Cancer Center, CARTI Little Rock, CARTI North Little Rock, CARTI Conway, CARTI Mountain Home and CARTI Searcy. CARTI radiation oncology programs account for six of the seven ACR-accredited programs in Arkansas.
The ACR is the nation's oldest and most widely accepted radiation oncology accrediting body, with more than 700 accredited sites and 30 years of accreditation experience. The ACR seal of accreditation represents the highest level of quality and patient safety. It is awarded only to facilities meeting specific practice guidelines and technical standards developed by ACR after a peer-review evaluation by board-certified radiation oncologists and medical physicists who are experts in the field. Patient care and treatment, patient safety, personnel qualifications, adequacy of facility equipment, quality control procedures, and quality assurance programs are assessed. The findings are reported to the ACR Committee on Radiation Oncology Accreditation, which subsequently provides the practice with a comprehensive report they can use for continuous practice improvement.
"CARTI has voluntarily gone through a vigorous review process to test ourselves nationally against the highest standards in the field of Radiation Oncology," said Adam Head, President and Chief Executive Officer of the statewide network of cancer care providers. "This endorsement is an external recognition of the highest level of imaging quality and radiation safety offered at CARTI facilities."
The ACR is a national professional organization serving more than 36,000 diagnostic/interventional radiologists, radiation oncologists, nuclear medicine physicians, and medical physicists with programs focusing on the practice of medical imaging and radiation oncology and the delivery of comprehensive health care services.
About CARTI
CARTI is a not-for-profit, multi-disciplinary cancer care provider offering medical and surgical oncology, diagnostic radiology, and radiation oncology at locations throughout the state to provide convenient access for cancer patients.
Chemotherapy is offered in Little Rock, North Little Rock, Benton, Clinton, Conway, El Dorado, Heber Springs, Russellville and Stuttgart. Radiation therapy is offered in Little Rock, North Little Rock, Conway, Mountain Home and Searcy.
The CARTI Foundation was incorporated in 1983 as a non-profit organization to assist CARTI in meeting the current and future needs of Arkansas cancer patients and their families.
For more information, visit CARTI.com.