CARTI Foundation Announces Appointment of Four New Board Members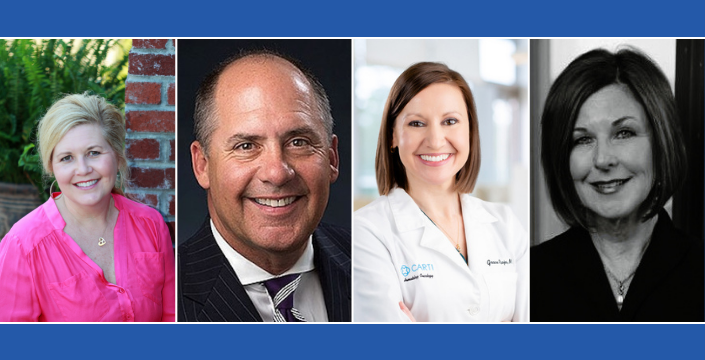 The CARTI Foundation today announced the appointment of four new members to its Board of Directors. The new members are Misti Coker, Kelley Erstine, Grace Raja, M.D. and Cindy VanVeckhoven. Their terms began on July 1, 2021. With these appointments, the Foundation's Board of Directors now includes 23 members.
ABOUT MISTI COKER
Misti Coker is the president of Personal Pep Rally, an Arkansas-based nonprofit with a mission to educate, motivate and encourage cancer patients and their families. Coker's relationship with CARTI began in 2016 when her then 33-year-old son-in-law was diagnosed with esophageal cancer. Coker joined him for many appointments throughout his three-and-a-half-year cancer journey, which ended in January 2020. She was also a member of the Heat the Seat Fundraising Committee that raised funds to purchase new heated infusion chairs for the CARTI treatment clinic in Stuttgart. Coker is a survivor herself, having been diagnosed with malignant melanoma. She is the author of 'Game On', a collaboration of information from cancer patients, caregivers, family and friends. 
ABOUT KELLEY ERSTINE
Kelley Erstine is the chief executive officer at Independent Insurance Agents of Arkansas. He previously served as chief of staff at the University of Central Arkansas in Conway, where he also served as interim president for nearly two months in 2017. Erstine's relationship with CARTI began in the early 2000s when he helped organize the Yvonne Richardson Golf Tournament. Today, Erstine is the son of a patient currently being treated at the CARTI Cancer Center in Little Rock. 
ABOUT GRACE RAJA, M.D.
A member of CARTI's medical team since 2016, medical oncologist Dr. Grace Raja treats patients at the CARTI Cancer Centers in Conway and Little Rock. She earned her medical degree from the University of Texas at Southwestern in Dallas, Texas, where she also completed her residency in internal medicine. She completed a fellowship in hematology/oncology at the Keck School of Medicine at the University of Southern California in Los Angeles, California and in hematology/oncology at the University of Texas at Southwestern. She is board certified in internal medicine and hematology/oncology.
ABOUT CINDY VANVECKHOVEN
Cindy VanVeckhoven serves in the tax area of the Little Rock practice of Landmark CPAs. She joined Landmark in 2006 after spending much of her career with Ernst & Young and a regional public accounting firm. Cindy provides tax planning and compliance services as well as accounting services and consulting to a diverse client base including manufacturing, retail, farming, and service industries. She also has extensive experience working with high-net-worth individuals and closely-held businesses. VanVeckhoven's relationship with CARTI began in 1994 while working for BKD, she served as CARTI's acting controller for five months. Since then, she has supported the organization financially and looks forward to growing her involvement.
The complete slate of board members for FY22 includes:
Kim Ellis, Chair
Paul Benham, III, Vice-Chair
Ginger Beebe*, Searcy
Traci Braunfisch, Little Rock
Pam Brown Courtney, Faithland Properties, Inc.
Misti Coker, Personal Pep Rally
Karen Danhof, Dole Packaged Foods, LLC
Kyle Drown, Arkansas State Police
Kelley Erstine, Independent Insurance Agents of Arkansas
Ann Freely, Maumelle
Adam Head, CARTI President and CEO
Steve Jonsson, Signal Media Inc.
Dennis Jungmeyer*, North Little Rock
Kyle King, KARK 4
Charles Nabholz, Nabholz Inc.
Grace Raja, M.D., CARTI
J. Scott Schallhorn, Mitchell Williams
Cindy VanVeckhoven, Landmark CPAs
Sheila Vaught, Little Rock
Terry Vick, Arkansas Federal Credit Union
Mark V. Williamson*, Williamson Insurance
John Youngblood*, Little Rock
Jan Zimmerman, Little Rock
*Director-Emeritus