CARTI Breaks Ground on CARTI Cancer Center North Little Rock
Center enhances treatment, care and accessibility for patients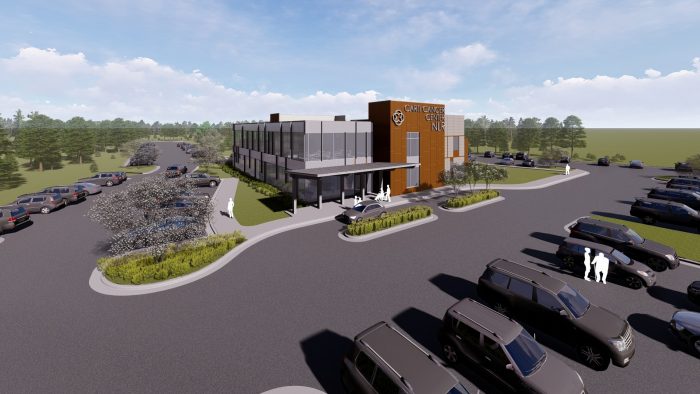 Development is underway for the new CARTI Cancer Center North Little Rock, which will be located at 3400 Springhill Drive, North Little Rock.
CARTI North Little Rock will offer comprehensive cancer treatment services in one convenient location, enhancing treatment, care and accessibility for patients. In addition to having a beautiful, state-of-the-art facility, CARTI NLR patients will receive the most innovative and personalized cancer treatment available, with comfort and convenience.
Features of the new facility include:
A two-story, 24,000-square-foot center with fully integrated cancer care services for medical and radiation oncology, as well as diagnostic imaging
An expansive and sunlit infusion area to create a more relaxing and healing atmosphere, with plenty of room for caregivers and families
Heated infusion chairs
Easier access and parking for patients
Varian Linear accelerator
PET/CT
Low Dose CT scanner
CARTI North Little Rock physicians include medical oncologists Drs. Kewen Jauss, Omer Khalil, Lawrence Mendelsohn, Kamal Patel and Diane Wilder, as well as radiation oncologist Dr. Christopher Ross and breast surgeon Dr. Jerri Fant.
Construction is estimated to take 12 months, with a target opening date of 1st Quarter 2020. Polk Stanley Wilcox is the architect, and Flake and Kelley Commercial will manage the building.
"Providing the most innovative treatment and leading-edge technology coupled with personalized, compassionate care to our patients are our highest priorities," said Adam Head, President and Chief Executive Officer of the statewide network of cancer care providers. "Our new North Little Rock facility will deliver an exceptional treatment experience for all our patients."
About CARTI
CARTI is a not-for-profit, multi-disciplinary cancer care provider offering medical and surgical oncology, radiation oncology, diagnostic radiology and genetic counseling at locations throughout the state to provide convenient access for cancer patients.
Medical oncology is offered in Little Rock, North Little Rock, Benton, Clinton, Conway, El Dorado, Heber Springs, Russellville and Stuttgart. Radiation therapy is offered in Little Rock, North Little Rock, Conway, Mountain Home and Searcy.